POST holds an annual safety forum with a variety of speakers discussing many issues relevant to our industry from safety engagement surveys to how to properly use and care for safety equipment, all to provide some positive insight on everyone's commitment to safety
Past Safety Forums
This section highlights presentations of our POST safety forums. The presentations can be viewed below and are a great way to share POST initiatives with your staff.
2023 Safety Forum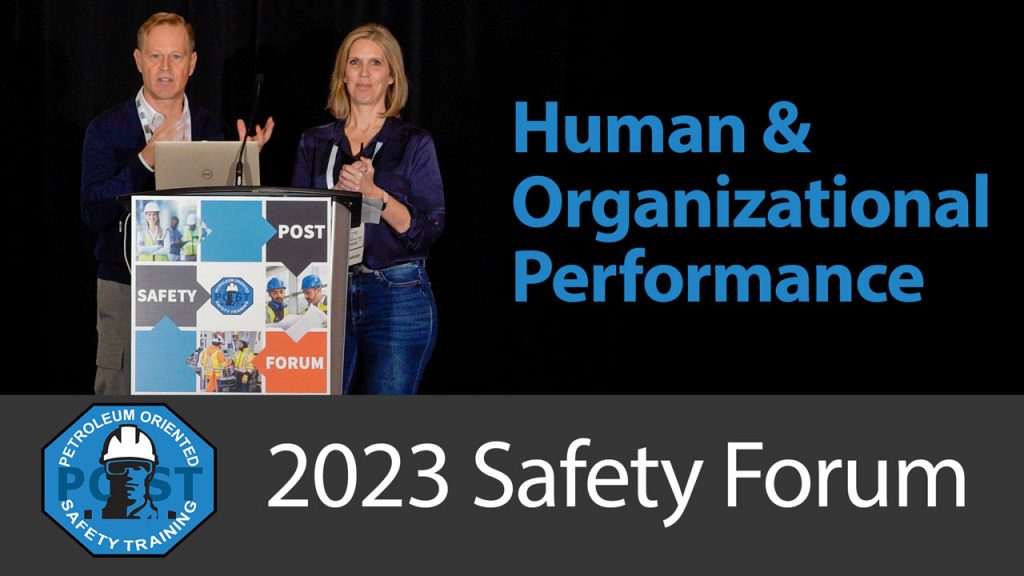 Suncor's Stasy Presutto and Lisette Shaw introduce the principles of Human and Organizational Performance at the POST Safety Forum in Toronto
We launched our new POST Safety Tools series with our video on Planned Job Observations
2022 Safety Forum

Highlights
Life Saving Rules – Presented by: Anik Westerneng & Mike Papulkas
POST for Site Operators – Presented by: Michelle Rae & Jim Hunter
Benefits of using a POST certified contractor
Completing an effective JSA – Presented by: Michelle Rae, Anik Westerneng, Howard Heal, Mike Lamont
Potential issues with JSAs
Using templates for hazards and mitigations
Examples of JSA's
2020 Safety Forum
Erin Yarosh – BGIS
Mental Health in the workplace
Erin discusses some of the root causes of mental health issues in the workplace including talking with your workers and the importance of developing a mental health program for your workplace.
Craig Bennett – Suncor Energy 
Suncor's Life Saving Rules
Craig discusses Suncor's Life Saving Rules and how they tie in with POST requirements and critical procedures.
2019 Safety Forum
The following are our 2019 speaker presentations
Mike Papulkas – Shell Canada
Mike discussed Shell's global implementation of "Blue Zones", a visual engagement tool for the frontline workers to discuss job related risks that you can integrate into your own safety program.
Stasy Presutto – Suncor Energy
Stasy discussed mitigating dropped objects on work sites such as using hand tools at heights and noted "dropped objects" is among the top three causes of serious injuries and fatalities in the oil and gas industry.
David Ardito – Industrial Safety Trainers
David discussed impairment on the work site, how standard drug and alcohol policies typical do not address this issue and provided tools to attendees on how to investigate incidences of impairment.
---
2018 Safety Forum

The OPCA hosted a POST safety forum on March 6th in Toronto.
Organizing committee: Michelle Rae-OPCA, Scott Eadie-BGIS EFS, Mike Lamont-NEE, Rene Kooistra-Claybar Contracting, Russ Porter-NEE
Master of Ceremonies: Scott Eadie
Presenters: Rick Lombardi-BGIS, Brad Donais-Worksite Safety, Trevor Campbell-Suncor, Mike Papulkas-Shell
Presentations:
Operational Excellence
Trevor Campbell – Suncor Energy
Trevor discusses Suncor initiatives including their Serious Injury and Fatality prevention initiative and Life Saving Rules
Fall Protection equipment demo
Brad Donais – Worksite Safety
Certified instructor Brad Donais provides a demonstration for using fall protection equipment including rescue harnesses and lanyards including proper wear and daily inspection.
Vacuum Truck Checklist
Rick Lombardi – BGIS
Rick provides an overview of the newly reinstated POST vacuum truck critical checklist including an explanation of each section of the checklist.
Electrical Safety in Design
Mike Papulkas – Shell
Mike discusses the challenges and growing needs of facilities when updating electrical systems to meet the new demands such as alternative fuels and charging stations.
---
2017 Safety Forum
The OPCA hosted a POST Safety Forum on March 7th.  Thank you to the organizing committee who assisted the OPCA in hosting an informative and interactive session. Scott Eadie who also performed MC duties and Mike Lamont and Russ Porter of National Energy Equipment. 
Distracted Driving
Presented by Mike Lamont, NEE
Mike discusses the dangers of distracted driving and offers tips on driving safely:
How Mature is your Safety Culture?
Presented by Rene Kooistra, Claybar Contracting
We have come a long way with respect to safety in the workplace, but is it enough? Rene offers some ways to motivate everyone in your company to make the best safety choices:
Shell Hearts & Minds Program
Presented by Daryl Berger, BGIS
Darryl discusses Shell's Hearts and Minds Toolkit which assists in creating and maintaining change in the organisational safety culture by involving all staff in managing Health, Safety and Environment:
Safety Intervention – Live Survey
Presented by Ron Ballantyne & Russ Porter
Do you and your employees intervene when you see an unsafe act? See our audience results during this live survey:
2016 Post Safety Forums
The Ontario Petroleum Contractors Association hosted a POST Safety Forum in conjunction with their annual conference on March 8, 2016. Below are key presentations that may be of interest.
Safety Engagement Interactive Survey
We polled our audience to gauge their level of engagement with respect to Behaviour Based Safety. The survey was conducted by Ron Ballantyne, consultant for OPCA.
Safety Engagement Survey – Ron Ballantyne, RAB Consulting for OPCA
Manager's Roles & Responsibilities
Rob Rivers of Claybar Contracting's presentation on manager's roles with respect to health and safety.
Forecourt Safety
Michael Lamont of National Energy Equipment – presentation on the importance of forecourt safety.
2015 POST Safety Forum
The POST Safety Forum 2015 was a huge success. Thank you to all the speakers who presented.
Video Presentations:
Claybar Contracting – Rob Rivers – Site Housekeeping
Respect Group – Kevin McLaughlin – Bullying/Harassment in the Workplace
Suncor Energy – Heather Cowie – Operational Discipline

National Energy Equipment – Russ Porter – POST Documentation
Power Point Presentations: