Task was removing existing dispenser islands (concrete and forms). Dispensers had been removed and product lines  capped at the shear valves with the STPs locked/tagged out. The STP streetbox lids had been removed but STP  sump lids remained in place. A gas powered saw had been used for initial cutting of the concrete islands, which was followed by breaking up the same concrete islands with a bobcat equipped with a breaker. Work had been proceeding normally until a flash was witnessed by the fire watch associated with the concrete demolition crew. The fire watch used a fire extinguisher to extinguish the flash and filled the dispenser sump (13-14) where the flash occurred. An adjacent dispenser sump (9-10) was also filled with discharge from the fire extinguisher as a precaution. Pressure surge along secondary product line was sufficient to blow off STP sump lids at tank nest. Area was immediately evacuated to muster point where it was reported that there were no injuries as a result of the flash. Further investigation also revealed no property damage occurred.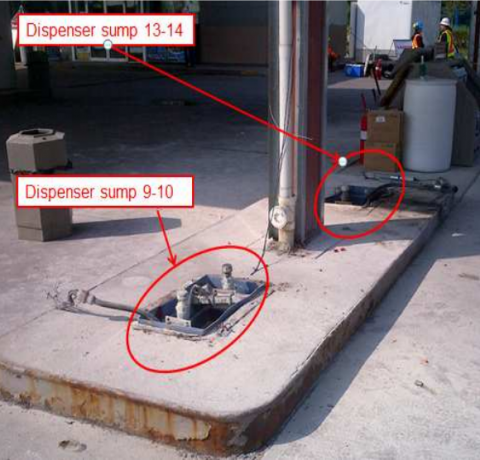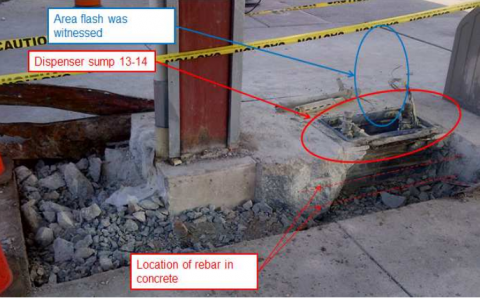 Of note: 
 • Original JSA had been completed, however 'hot work' was not identified as a relevant critical procedure 
Root Cause (#4):
Failure to follow 'Hot Work' Procedures 
• The potential hazard of working in a flammable environment was not considered/identified.
• The hazard of 'sparks' was not initially identified as a hazard on the JSA when prepared by the subcontractor. The site superintendent added this information as a hazard during his review of the JSA. The control/mitigation put in place was to have a fire extinguisher on hand when breaking out the island forms.
Lessons Learned: 
• Any work in proximity of a sump that may cause a spark or source of ignition should be considered 'hot work'
• Air circulation (ventilation) through product piping/dispensing system can be maximized by opening all adjacent sumps, including STP sumps. Suitable mechanical ventilation may also be required due to on-site conditions
• Use of up-to-date critical checklists, procedures and safety documentation is critical
• Discussion of emergency procedures during site orientation is key in ensuring that all workers are prepared on site in the event of an emergency
• Use of a starter JSA for this common task would have initially identified the hazard associated with sparks from striking rebar, and the need for a Hot Work Critical Checklist (including LEL testing)
• Worst case scenario must be considered at all times when preparing to work as well as during work activities. A worst case scenario analysis of 'sparking' caused by demolition would trigger the potential hazard associated with working in the sump area
• Although there were no injuries and no property damage, the risk existed for a more serious outcome
• Failure to effectively use our Safety tools puts us and those around us at risk.
Save