Cliquez ici pour la version française
As we know, there is a lot of information to navigate and we are doing our best to provide as much relevant information as possible, including links to additional information that you may find beneficial. Although some information is province specific, it still may contain guidelines beneficial to your company.
---
Comco Canada shares their COVID-19 protocols 
Comco Canada developed these protocols during the COVID-19 pandemic in an effort to keep their workers safe and have shared them with industry. Click here to download
---
From the Canadian Centre for Occupational Health and Safety
Pandemic (COVID-19) Tip Sheets 
NEW! FREE!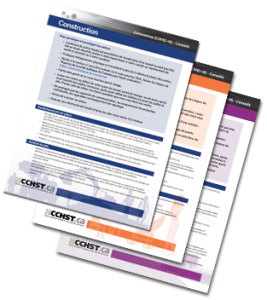 Use these free tip sheets as guidance while operating during a pandemic, including the coronavirus disease (COVID-19) pandemic. Each document offers health and safety tips and good practices, for both employers and workers, specific to each industry or sector. Organizations and businesses can adopt this guidance to protect their workers and prevent the spread of infections. The tip sheets cover a range of occupations and industries from construction and trucking to healthcare and daycares.
All tip sheets are available in English and French.
Note that the guidance provided in these tip sheets cover just some of the adjustments organizations can make during a pandemic. To meet your organization's specific needs, add your own good practices and policies to these recommendations.
Go to CCOHS COVID-19 Free Tip Sheets
---
PPE and Disinfecting Supplies
Price lists updated for 2021
Supplies are in stock and ready to ship!
Available through Guest Supply Canada
Consultant: Kelly Rodd
Download
 info on the Evaclean Disinfecting System
Note: POST is not affiliated with Guest Supply Canada, our intent is to only supply a link to trusted sources.
---
New! AI Thermal Detectors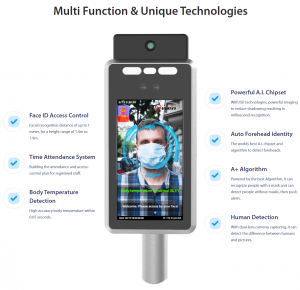 Helping to prevent community spread of COVID-19
A.I. Thermal Detector with Access Control & Time Attendance System
Click here for information
---
Additional COVID-19 Resources
Visit the World Health Organization for the latest information including infographics you can share at your workplace and through social media. Click here for information
Information from the Government of Canada   
including self assessment tools and prevention. Click here for more information
The Canadian Construction Association has compiled links to various topics on COVID-19, including links to provincial information. Click here for more information.
The BC Construction Safety Alliance has put together some guidelines specific to following safe work practices on the job site. Click here to download the guideline. The BCCSA has also provided a number of helpful links including how to install a hand washing station on your site.
https://www.bccsa.ca/index.php?id=451
https://www.bccsa.ca/index.php?id=453
https://www.bccsa.ca/index.php?id=455
The Basics – Precautionary Measures to consider
on the construction site
Policies
It's important your company implements policies for your workplace and job sites during the COVID-19 pandemic. Considerations include sick leave for employees or when they need to care for others.
Personal Hygiene
It is critical when working on job sites, or visiting sites while performing maintenance to maintain personal hygiene. This includes frequent hand washing, avoiding touching your face, following cough etiquette and maintaining and cleaning your PPE. 
Social Distancing
Keeping a minimum distance of 2 meters and decreasing the amount of employees in a work area
Sanitation
Employers are required to provide adequate washing facilities as well as keep these facilities clean and sanitized.
Separation
Employers must follow required health and safety protocols if a worker falls sick with COVID-19
Legal Guidelines for Employers
Weirfoulds Law recently held a webinar to discuss the safeguards companies can implement to keep their workers safe. They also provided some legal updates on the impacts of COVID-19
on the work site.
What should you do if a worker is refusing to work because of COVID-19?
An employer has an obligation to take reasonable care to protect the health and safety of employees.
Where an employee has reason to believe that there is a dangerous condition in the workplace, or that their duties present a danger to their health and safety, the employee may be able to refuse to attend work or perform certain duties.
What should you do if a worker is diagnosed with COVID-19?
The worker should not be permitted to return to the work place until clear from COVID-19.
The current advice from health authorities is that all employees who worked "closely" with the infected employee should also be removed from the workplace for at least 14 days.
Employers should err on the side of caution.
Employers should also take reasonable measures to protect the confidentiality, to the extent possible, to protect the identity of any employee who contracts COVID-19.
For more topics on dealing with COVID-19 and the impact on your business and keeping workers safe, visit the Weirfoulds Law website.
The information and comments herein are for the general information of the reader and are not intended as advice or opinion to be relied upon in relation to any particular circumstances. For particular application of the law to specific situations, the reader should seek professional advice.